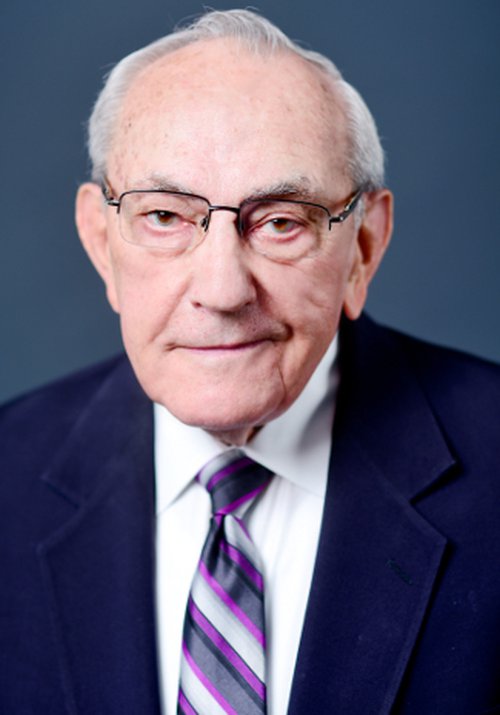 John W. Brown (1931-2022)
Mohawk co-founder and President John W. Brown passes away at 91.
    It is with great sadness that we inform you of the death of Mohawk President John W. "Jack" Brown. Mr. Brown was 91, and until the end of April he continued to work at Mohawk five days a week.
    Mohawk was a major part of his life for 64 years. He, along with Wilbur L. Brown and Fred Winkler founded the company in April 1958. Mr. Brown originally moonlighted at Mohawk, working in the purchasing department of Greyhound by day and then spending another six hours at Mohawk into the night. He eventually came to Mohawk full-time, serving as Mohawk's traveling sales representative for all properties west of the Mississippi River for many years. He became company President in April 1967 and oversaw the company's growth from a small storefront company on Elston Avenue on the Northwest Side of Chicago to North America's largest independent supplier and manufacturer of aftermarket motorcoach and transit bus parts. In all, Mr. Brown worked in the bus industry for nearly 70 years, entering the business after his honorable discharge from the United States Army, where he achieved the rank of Captain.
     Jack was a devoted husband to Carol, his wife of 49 years, with whom he is reunited in heaven. He was a proud father to his son, Robert (Mohawk's Vice President), and his four daughters: Cheryl, Janice, Susan, and Marci. He was especially proud of his 16 grandchildren and his five great-grandchildren (with a sixth on the way).
     Jack loved his people. In addition to his immediate family, he was loved and respected by his nephews, nieces, and cousins. He forged a bond with his younger brother, Tom (Mohawk's Executive Vice President until his death in January 2000), thanks to 35 years of building a successful business together. He was fiercely protective of his older sister, Donna, who courageously battled cerebral palsy until she died in 1978. Additionally, he treasured countless friendships with schoolmates, fellow soldiers, co-workers, business partners, vendors, neighbors, golfing partners, fellow congregants, and others he just met along the way. He cared deeply about his employees, treating them like his own family. He loved meeting Mohawk's customers, and he maintained friendships with customers across the country throughout his career. He enjoyed attending trade shows, including the
United Motorcoach Association
Expo, the
CUTA - ACTU
Expo, and the
American Public Transportation Association
Expo, which he would travel to until 2017.
     We will obviously miss him, but through Mohawk, part of him will remain.
Visitation will be from 3 to 8 p.m., Sunday, July 31 at Ryan-Parke Funeral Home, 120 S. Northwest Hwy, Park Ridge, Ill., 60068. The funeral service will be at 10:30 a.m. Monday, Aug. 1 at the First United Methodist Church of Park Ridge, 418 W. Touhy Ave., Park Ridge, IL 60068. Burial is private.
     Mohawk will have limited hours of operation on Monday, Aug. 1 so that employees can attend the funeral service. Mohawk will be open from 6 a.m. to 9:30 a.m. Central Time, and then reopen at 1 p.m. Central Time with limited staff Monday.